---
Sheng
14. 1. 2008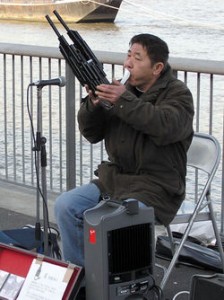 Sheng
中国国际广播电台
Je starobylý čínský foukací hudební nástroj. Je to také hudební nástroj, u kterého se jako u prvního na světě bylo použito colného jazýčku. Sehrál pozitivní úlohu při vývoji evropských hudebních nástrojů.
V roce 1978 bylo v hrobě Zeng Houyiho v okresu Sui čínské provincie Hu Bei vykopáno několik Pao Shengů ( Pchao-šengů ), tedy hudebních nástrojů starších 2400 let. Jsou to nejstarší objevené Shengy v naší zemi.
Vznik Shengu sáhá až do doby před 3000 lety. Na začátku byl podobný syrinxu, neměl jazýček ani bázi a byl tvořený tak, že se provázkem nebo dřevěným ráměčkem hromady spojily bambusy s nestejným zvukem. Potom lidé postupně přidávali do Shengu bambusový jazýček a podstavec, připravený z Pao Gua, jednoho druhu lahvových tykví, čímž se Sheng začal lišil od syrinxu.
Hubička Shengu je dřevěná. Na podstavci stojí přes 10 bambusových trubek s nestejnými délkami ve tvaru koňské nohy. Po čínské dynastii Tang ( Tchang ) změnili učinkující podstavec v dřevěnou. Během času byl dřevěný podstavec nahrazen měděným a bambusový jazýček také měděným.
Při dlouhodobém šíření se v nestejných oblastech formovaly Shengy různých typů. Po roce 1949 čínští výrobci a hudebníci je neustále reformovali a postupně vyvinuli nové druhy, jako např. Sheng se zesilovaným zvukem a Sheng s klávesami. Novátorství překonalo nedostatky původního Shengu, který měl úzké rozpětí zvuku, nemohl modulovat a nebyl obratný při rychlém hraní.
Zabarvení zvuku dnešního Shenga je jasné a příjemné, jeho vysoký tón je osvěžující, střední tón je jemný a plný a nízký tón je tlustý, temný a zvučný. Z tradičních čínských foukacích hudebních nástrojů jedině Sheng může hrát harmonii. Při sborové hře může zlepšovat zabarvení orchestru a zbohacovat jeho zvuk. Ve velkém národním orchestru foukacích a smyčcových hudebních nástrojů se někdy používají tři druhy Shengů s vysokým respektive středním a nízkým tónem.
Dále si vyslechněte melodii: Fenix roztahuje křídla.
The Chinese sheng (Chinese: 笙; Pinyin shēng) is a mouth-blown free reed instrument consisting essentially of vertical pipes, in the Chinese orchestra.
It is thought that Johann Wilde and Pere Amiot traveled to China and brought the first shengs back to Europe in 1740 and 1777 respectively, although some believe shengs were known in Europe centuries earlier. However, it was only in the early 1800s that Amiot's sheng inspired the invention of the harmonica, accordion, and reed organ.
Traditionally, the sheng has been used as an accompaniment instrument for solo suona or dizi performances, in kunqu and some other forms of Chinese opera, and in small ensembles. In the modern symphonic Chinese orchestra, it is used for both melody and accompaniment. Its warm mellow sound expresses lyrical melodies well, while its ability to play chords makes it a highly prized accompaniment instrument.
The sheng has been used in the works of a few non-Chinese composers, including Lou Harrison, Tim Risher, Brad Catler, and Christopher Adler.
Shengs are broadly classified into two categories: traditional sheng (传统笙; pinyin: chuántǒng shēng) and keyed sheng (键笙; jiàn shēng). Keyed shengs have only been developed in modern times, c. 1950 onwards.
[edit]
Traditional sheng
Traditional sheng (传统笙, pinyin Chuántǒng Shēng)
The traditional sheng is the original type of sheng, which has seventeen, twenty-one, twenty-four or thirty pipes (depending on maker, model and regional culture). Uses treble clef when in western notation, but more often uses jianpu, Chinese numerical notation.
The difference between a traditional and keyed sheng lies in its mechanism. On a traditional sheng, the holes on the pipes are pressed directly by the player's fingers. On a keyed sheng, the holes are opened and closed by means of keys or levers. Without keys, the great number of pipes and the size of the alto to bass instruments makes it impractical for operation by hand.
Covering a hole causes the entire length of the pipe to resonate with the reeds' frequency. If the hole is open, the resonance frequency would not match, and hence no sound is produced.
[edit]
Keyed sheng
Currently, there are four main ranges of keyed sheng, forming a family of soprano, alto, tenor and bass. All of them are chromatic throughout their range, and tuned to the equal temperament scale.
[edit]
Notable sheng players
Feng Hai Yun (who is currently a visiting professor at the Central Conservatory of Music in Beijing).
Hu Tianquan (胡天泉) - introduced several technical improvements on the construction of the instrument
Guo Yi
François Picard
Rodrigo Rodriguez[1]
Wang Hong
Wang Zhengting (王正亭)
Weng Zhenfa (翁鎮發)
Wu Tong (吴彤)
Wu Wei (吴巍)
Xu Chaoming
[edit]
See also
[edit]
External links
Komentáře
Přehled komentářů