---
Washboard / Valcha
15. 2. 2008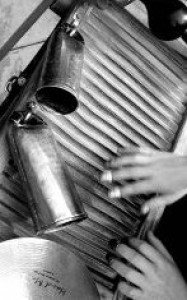 Ano, je to valcha, v anglosasky mluvících zemích washboard. A hned mě to nakoplo, valcha a swing, blues, jazz nebo dixieland k sobě přece neodmyslitelně patří. Shodou okolností jsem doma o valše mluvil ani ne před dvěma týdny. Chtěl bych si takovou pěknou hudební valchu, jako má Jan Mrázek od Ivana Mládka, vyrobit. Bohužel valcha, kterou jsem našel na chalupě, se stále používá na praní, i když jen zřídka, takže musím obejít nějaká starožitnictví nebo vetešnictví. Prstýnky na banjo mám, takže zbývá najít pár kravských zvonců a nějaký ten činel a je to.
Díval jsem se na webu, co všechno se na slovo valcha dá najít. V češtině tedy nic, takže ten, kdo se na web Uke-banjo.info dostal přes frázi jak hrát na valchu, spláče nad výdělkem. Ale aspoň jsem našel velmi pěknou mp3 k poslechu. Jmenuje se Diggin My Potatoe (MP3, 3,68 MB), napsal ji Big Bill Broonzy, americký skladatel bluesových písní a proslavil ji Washboard Sam, také Američan, bluesový zpěvák a hudebník. A údajně nevlastní bratr Big Bill Broonzyho. Washboard Sam se proslavil jako pouliční umělec, největší slávu zažil ve 30. a 40. letech minulého století. A jak už to u podobných týpků bývá – byl to černoch. Z webu si můžete stahnout ještě jednu písničku od dua Big Bill Broonzy a Washboard Sam, By Myself. Pokud se vám skladby líbí, můžete si objednat spoustu bluesových CD na adrese http://www.pohodli.com/.

Patrik Stach | 6.09.2007 | Podcast | Ohodnotit článek 0/0 |
Washboard
From Wikipedia, the free encyclopedia
A washboard is a tool designed for hand washing clothing. With mechanized cleaning of clothing becoming more common by the end of the 20th century, the washboard has become better known for its originally subsidiary use as a musical instrument.
The traditional washboard is usually constructed with a rectangular wooden frame in which are mounted a series of ridges or corrugations for the clothing to be rubbed upon. For 19th century washboards, the ridges were often of wood; by the 20th century, ridges of metal were more common. A "fluted" metal washboard was patented in the US in 1833. Zinc washboards were manufactured in the US from the middle of the 19th century. In the late 20th century and early 21st century, ridges of galvanized steel are most common, but some modern boards are made of glass. Washboards with brass ridges are still made, and some who use washboards as musical instruments prefer the sound of the somewhat more expensive brass boards.
[edit]
The washboard used for laundry
Though the washboard is generally used as a musical instrument or sound-making device, many parts of the world still use them for washing clothes. Clothes are soaked in hot soapy water in a washtub or sink, then squeezed and rubbed against the ridged surface of the washboard to force the cleansing fluid through the cloth to carry away dirt. Washboards may also be used for washing in a river, with or without soap. Then the clothes are rinsed. The rubbing has a similar effect to beating the clothes and household linen on rocks, an ancient method.
[edit]
The washboard as a musical instrument
The washboard and frottoir are used as a percussion instrument, employing the ribbed metal surface of the cleaning device as a rhythm instrument.
As traditionally used in jazz, cajun, skiffle, jug band, and old time music, the washboard remained in its wooden frame and is played primarily by tapping, but also scraping the washboard with thimbles. Often the washboard has additional traps, such as a wood block, a cowbell, and even small cymbals.
Conversely, the frottoir dispenses with the frame and consists simply of the metal ribbing hung around the neck. It is played, also with thimbles, but with much more strumming than tapping. The frottoir, also called a Cajun rub-board or Zydeco rub-board, is a mid 20th century invention designed specifically for Zydeco music. It was designed in 1946 by Clifton "King of Zydeco" Chenier, and fashioned by Willie Landry, a friend and metalworker at the Texaco refinery in Port Arthur, Texas. Clifton's brother Cleveland Chenier famously played this newly designed rubboard using bottle openers. Likewise, Willie's son, Tee Don Landry, continues the traditional hand manufacturing of rubboards in his small shop outside of Lafayette, LA.[1]
The frottoir or vest frottoir (from Cajun French "vest to be rubbed") is played as a stroked percussion instrument, often in a band with a drummer, while the washboard generally is a replacement for drums. In Zydeco bands, the frottoir is usually played with bottle openers, to make a louder sound. It tends to play counter-rhythms to the drummer.
In a jug band, the washboard can also be stroked with a single whisk broom and functions as the drums for the band, playing only on the back-beat for most songs, a substitute for a snare drum. In a four-beat measure, the washboard will stroke on the 2-beat and the 4-beat. Its best sound is achieved using a single steel-wire snare-brush or whisk broom.
However, in a jazz setting, the washboard can also be played with thimbles on all fingers, tapping out much more complex rhythms, as in the Washboard Rhythm Kings, a full-sized band.
Some washboard players may add other small percussion devices to the washboard, such as a cymbal, woodblock, or cowbell, which can periodically be struck to vary the effect.
A frottoir is played with a stroking instrument (usually thimble-gloves or a pair of bottle-openers) in each hand. In a 4-beat measure, the Frottoir will be stroked 8 to 16 times. It plays more like a Latin percussion instrument, rather than as a drum. The rhythms used are often similar to those played on Guiro.
[edit]
Quotation
From the 1920s song "Coney Island Washboard":
On her Coney Island washboard she would play
You could hear her on the boardwalk ev'ry day
Soap suds all around, bubbles on the ground
Rub-a dub-a dub in her little tub, all the tunes she found, hey!
Thimbles on her fingers make the noise,
She plays the Charleston on the laundry for the boys.
She can rag a tune right through the knees
Of a brand-new pair of BVD's.
Coney Island washboard roundelay.
[edit]
Related uses of 'washboard'
[edit]
External link
[edit]
See also
Wikimedia Commons has media related to:
Komentáře
Přehled komentářů